Important! Driving Instructions & Gate access for Saturday
Road closure for traffic control Saturday 9:30 AM — 5:30 PM!!
The road will be closed at Fairgrounds Rd NW and Tibardis, and at Nels Nelsen Rd NW and Stampede. SCA day trippers should come to the site from the west on Fairgrounds Rd NW to arrive at the SCA gate on Fairgrounds Road (in the southwest corner of the map, below). The modern public should come from the north on Nels Nelsen Road NW to access the public entrance gate.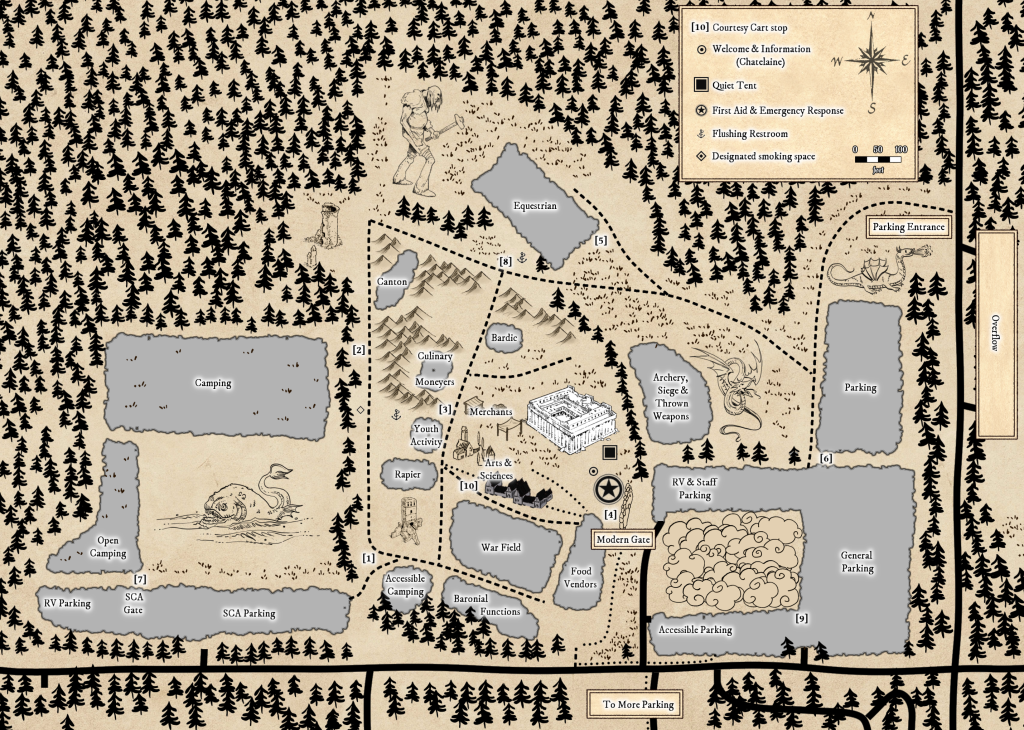 Do your feet get tired? Just want some help getting around? We have golf cart routes to help you get where you need to be! Notice the numbered cart stops on the map? That's where you go to get picked up, then just let your driver know where you need to go. (Sorry, but no dogs are allowed to ride — we have no way to secure them in the carts and keep them safe!)
Final Schedule PDF and Handout
The PDF version of ALL the information is here – save a copy on your mobile device, or print it out, and have it with you all day: https://dragonslaire.antir.org/wordpress/wp-content/uploads/2023/06/June-Faire-Kingdom-Event-Site-Full-Copy.pdf (14 pages)
The quick-reference printed handout is here – there will also be copies of this at Gate: https://dragonslaire.antir.org/wordpress/wp-content/uploads/2023/06/JF-2023-site-handout.pdf (4 pages)
As always, please remember that schedules can change unexpectedly during the event, due to weather or other unforeseen circumstances. Listen to the Heralds for updates!
Friday Schedule
10:00 AM – Gate Opens (Merchants and Staff)
12:00 PM – SCA Gate Opens
– Merchants will open after they are set up and close at dusk.
– The archery range plans to open after setup is complete.
TBD – Torchlight Shoot (depending on participant numbers).
10:00 PM – Gate Closes
Saturday Schedule
General Activities
8:00 AM – SCA gate opens – link to Gate info for the SCA populace
9:00 AM – Merchants and food vendors open – link to merchant / food truck list
10:00 AM – Modern gate opens
4:00 PM – SCA and Modern gates close
5:00 PM – All demos ends, Merchants and Food Vendors Close
Baronial Court
10:00 AM – Baronial Court and Event Welcome
1:00 PM – Brief awards Court
5:30 PM – Evening Court
* note: Roving Courts possible
Armored combat – link to details
9:00 AM – Armor Inspection
10:00 AM – War Demo Begins following Court
1:00 AM – Midday Court on the War Field
1:30 PM – Heavy Tournaments Begin – Prize Tournament, Period Kit Tournament
Rapier Activities – link to details
8:30 AM — 9:45 AM – Lists Open/close for all Tourneys & Demos for Saturday
10:00 AM – Rapier Tournaments Begin
2:30 PM — 5:00 PM – Rapier Scenarios/C&T Tourney/Pick-up Fights/Demos
Artisans' Village – link to the list of artisans
10:00 AM — 5:00 PM – Throughout the day in/near Van Zee Hall
* note: There will be an "open mic" bardic stage in Van Zee Hall
10:00 AM — 4:00 PM – Culinary demos – northwest of the Merchants
Bardic Stage
11:00 AM — 5:00 PM – Bardic Stage – link to schedule of performances
Archery Range – link to details
8:00 AM — Archery Championship list signup opens on the archery range.
10:00 AM — 5:00 PM Open archery, with Royal Rounds and Arrow Slot novelty shoot for all archers.
Thrown Weapons Range – link to details
10:00 AM — 5:00 PM – Demo, target practice, and novelty throw
Target Siege Demos – link to details
10:00 AM — 5:00 PM – Demos throughout the day, SCA members may be able to try it!
Equestrian Demos – link to details
10:00 AM — 11:30 am – Various mounted games, including heads and quintain, and joust training.
1:30 PM — 2:30 pm – Joust training and jousting
3:30 pm – 5:00 pm – Challenge course. This will involve games centering around the adventures of Sinbad and the Valley of Jewels.
Youth and Family Activities – link to details
10:00 AM — 4:00 PM – Activities and crafts throughout the day
12:45 PM and 3:45 PM – Children's Parade
Celebrations
1:00 to 5:00 PM – Celebration of Life for THL Laurin of Rosewood, from 1 to 5 PM in the Camp.
30 min after Evening Court – The Laurel vigil for Archos Wu Zhi (Arqai Ne'urin) will take place at the Dragon's Laire baronial pavilion.
Saturday Schedule-at-a-Glance
WOW! There is so much going on, during the event on Saturday! If you are more of a visual person, here is a grid version of the schedule that you can download: https://dragonslaire.antir.org/wordpress/wp-content/uploads/2023/06/JuneFaire-2023-grid-schedule-Saturday.pdf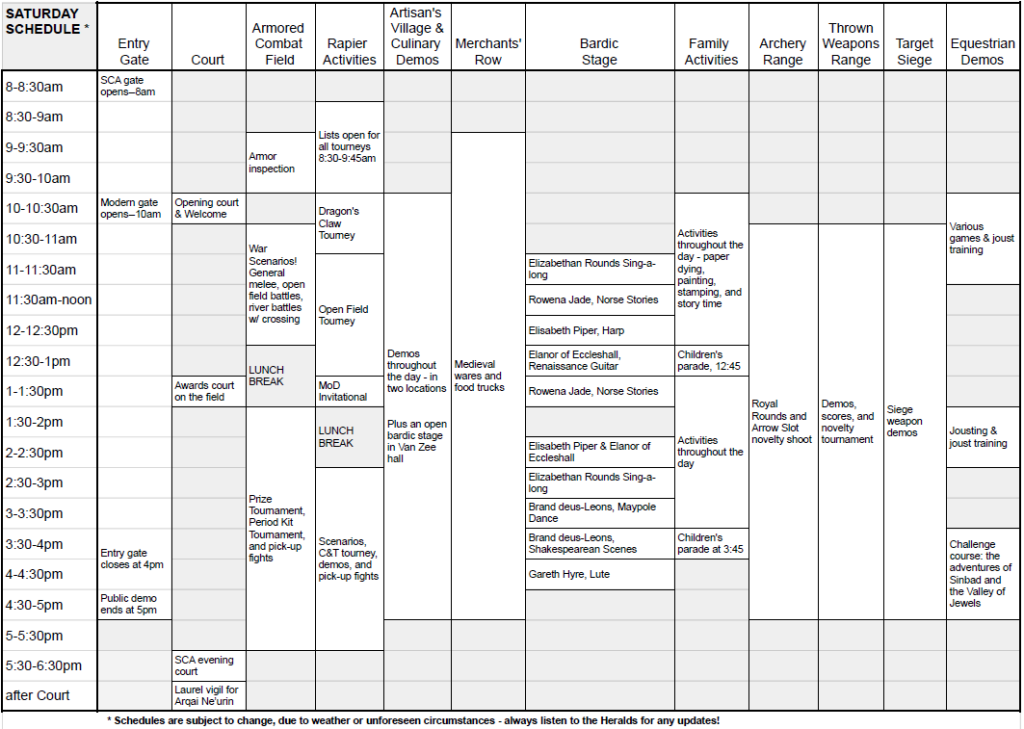 Sunday Schedule
8:00 AM — 9:30 AM – Archery Range opens for Royal Rounds until Opening Court
8:30 AM — 9:30 AM – Lists open/close for Dragon's Laire Rapier Championship
9:00 AM – SCA gate opens, Merchants open
9:45 AM – Invocation Court
10:30 AM – Rapier, Heavy, and Archery Championships, followed by Closing Court
Also in the morning – Siege weapon demos, thrown weapons range
12:00 PM – Noon – Gate Closes, Merchants close
3:00 PM – Event ends
5:00 PM – Site closes