Save the date! October 21, 2023
Come join Dragon's Laire for a day of feasting, A&S activities, games, and more! Our baronial Arts & Sciences and Bardic championships are the highlight of the day. We will also have games, family activities, demos, and possibly some classes. A hot lunch will be available (by donation). Finally, enjoy a delicious German feast in the evening.
Our event Stewards are Adelheide Leeuwin and Owain ap Gwyllim Pengryth.
Kingdom event calendar link: https://antir.org/events/harvest-feast-49/
Facebook event link: https://www.facebook.com/events/688853189746419/
---
Location
When: October 21, 2023 – 9:00AM to 8:00PM. The site opens for setup crew and competitors at 8AM, and general admission (Gate) will open at 9:00AM.
Site fee: $15 for general adults, $10 for adult SCA members, 17 and under FREE
Feast fee: additional $15 per adult (pre-paid), 17 and under eat FREE.
Where: Our Saviour's Lutheran Church, 1015 Veneta Ave Bremerton, WA 98337
Pre-Registration
Pre-registration is now open, until Sept. 30th! Click to follow this link to the Google form.
To guarantee YOUR spot at the table, you must pre-register and pre-pay. (Please fill out pre-registration form(s) for youth, even though they eat FREE, so we know how much food to prepare.)
For your convenience, you can also OPTIONALLY pre-register/pay the site fee… even if you are not staying for Feast or you want to eat with us but bring your own meal (* off-board option).
Pre-payments can be made via PayPal, check, money order, or cash. Site fees can always be paid at the door.
Parking Information
Car pooling recommended: In order to allow everyone to park as near to the church as possible, please consider sharing a ride to the Event.
We also have arranged OVERFLOW parking, only a 2-minute walk away!
Address for overflow parking:
Grace Community Presbyterian Church (PCA)
916 Veneta Ave, Bremerton, WA 98337 (Google map link)
About the Site & Accessibility
Flameless (battery-operated) candles only, please!
Accessibility: the main Event area is all on one floor, with accessible parking near the entrance.
---
Volunteers needed!
We need volunteers to organize and run activities during the day! Ideas include…
A 'Scavenger Hunt'
Hands-On Classes on various subjects (armor making, arrow making, garb construction, scribal or calligraphy instruction, etc.)
Manufacture of banners for Baronial use
Fiber arts demo / instruction (drop spindle, tablet weaving, narrow-ware weaving, etc.)
Martiallate Arts Miscellania (Introduction to stretching excercises, martiallate philosophy, etc.)
Repair of Baronial-owned garb in "Gold Key"
Anything else you think would work!
Arts & Sciences and Bardic Activities
A&S and Bardic Championships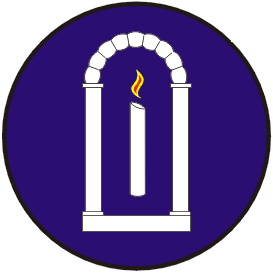 We have TWO confirmed Arts & Sciences competitors and SIX confirmed Bardic competitors for our Championship! This will be an exciting showcase!
The schedule of presentations and performances is coming soon. We invite everyone at Harvest Feast to watch and provide feedback! Come and cheer for your favorites!
Arts & Sciences Competitors
From the Letters of Intent of our TWO confirmed A&S competitors:
Domina Alys Graye – "My entry is a combination of both [art and science] as I have hand woven the Narrow-woven bands in different textiles. It is a science entry as the different fibers I have used to allow the viewer to both see and feel the differences."
Dame Madrun Gwehyddes– "My entry will focus on three seminal tablet woven bands from the Central European Iron Age as a means of illustrating the structural and technical aspects of Iron Age and Medieval tablet weaving. Each will be accompanied by documentation about the technique used, how and why that technique produces its unique features, and how it compares to the other techniques presented, as well as find sites, cultural context, other examples of the technique within the SCA period, and information on other techniques present in each of the cultural contexts."
Bardic Competitors
From the Letters of Intent of our SIX confirmed Bardic competitors:
Mistress Caitlin Wintour – "I'll present an original poem titled, "The Legacy"
HL Erikk MacLost – "I am a vocalist and I will be telling a story through song(s). It is my hope that I can put for a performance that will encompass the spirit of a bardic fire."
HL Seonag nic Griogair – "I will be performing 2-3 rounds of the (Turkish) Maltese Bransle from the 13th century, arranged for guitar."
HL Thea of Midvale – "I will perform the ballad "The Three Ravens" first published by Thomas Ravenscroft in 1611."
HL Volk the Grey – "I will be performing a story, a recitation, or a song. There is a high probability that it will involve a puppet."
M'Lord Badger the Humble – "Dramatic performance of a 9th century poem with brief introduction and explanation. (Pangur Ban)."
If you are competing and want to review the guidelines — follow this link for all the details.
Lunch!
We are trying something new — there will be a lunch available! Hand pies? Vegetable lentil soup? Stay tuned for details! There is no fee, but we do ask for donations.
Feast Menu
Ciar ingen Fiachnae
, our Culinary Guild Master, is assembling a team to provide a delightful late-period (1400-1600 CE) German feast. Off-board seating will also be available, if you want to dine with us but bring your own food.
The preliminary menu follows. We will add a list of ingredients for every item, after the recipes are finalized.
First Course: A variety of sausages, mustards, cheeses, pickled cabbage, and pretzel squares
Main Course: Roast chicken, roast pork, sour cherry sauce, buttered worts (seasonal green veggies), cheesy rutabagas, and bread
Dessert: Lebkuchen & fruit tarts
Contact Us
Event Steward: Adelheide Leeuwin
, email harvest_feast@dragonslaire.org
Arts and Sciences Minister: THL Arontius of Bygelswade
at arontius@comcast.net
Baroness Kloe of Thira
and Arion the Wanderer
at coronets@dragonslaire.org
---
New to the SCA? A little bit about what to expect…
You can check in and pay your daily fee at any time the entry Gate is open. Once you've checked in at Gate, you will get a site token to pin on your clothing, and you can come and go for the day. People will arrive at different times throughout the day, depending upon their interests and schedule.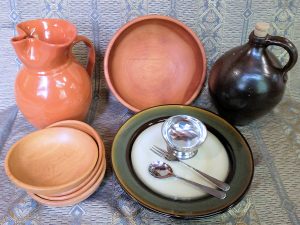 For a feast event like this, you should try to come in "garb" (an attempt at pre-1650 clothing) and also bring a "feast kit". You can borrow garb from the Gold Key deputy of the Chatelaine's office — click the link to email the Chatelaine, Halldora Bjorn
. A feast kit is simply a cup, a plate, a bowl, a napkin, and eating utensils. Feel free to bring more things if you want to dress up your place at the table, but those are the essentials!
Dinner is provided if you pre-registered for the feast, but lunch is on your own. Many people bring a picnic lunch. If you didn't pre-register for the feast, you can still come, just pack a dinner too. Table space will be available for you to set up your "off board" dinner.
Finally, this event has a fight practice — everybody can watch, and bring your fighting equipment if you want to participate — and Arts & Sciences and Bardic activities. Watch, or bring a craft and participate! Don't be afraid to introduce yourself, let people know you're new, and ask questions.
---
COVID-19 Precautions
Updated COVID-19 rules can be found under the COVIDSafe Policy page — but, in short, at present, there are no particular requirements in Kitsap county.
"No matter what safety precautions we put in place, there is no substitute for each individual being educated about the risk to themselves and their loved ones and making responsible choices to protect themselves and others from this virus."

From the Society