October 8, 2022
Their Excellencies Kloe of Thira and Arion the Wanderer invite you to share Beauty, Knowledge and Wonder with the Barony and witness the selection of Our Baronial Arts and Sciences Champion and Our Baronial Bardic Champion. And we invite you to enjoy a sumptuous Feast prepared by Master Thangbrandr Sløngvandbaugi after evening Court. Our most excellent event Steward is Sigridr Vilhjalmsdottir.
---
Location, Cost, and Registration
When: October 8, 2022, 10am-8pm. Gate hours 10am-3:30pm.
Where: Port Orchard Masonic Lodge, 1025 Sidney Ave.; Port Orchard, WA 98367
Cost
Site Fee: Adult Non-Member, $13; Adult SCA Member, $8; under 18 free
Feast Fee: additional $10 (pre-registration required)
Pre-Registration for the Feast is open until Sept 30th – sign up today!
The feast has a limit of 125 people, so pre-registration is essential!
– See the feast menu below.
– Follow this link to the pre-registration form.
There will be limited space for off-board feast seating.
New to the SCA? A little bit about what to expect…
You can check in and pay your daily fee at any time the entry Gate is open. Once you've checked in at Gate, you will get a site token to pin on your clothing, and you can come and go for the day. People will arrive at different times throughout the day, depending upon their interests and schedule.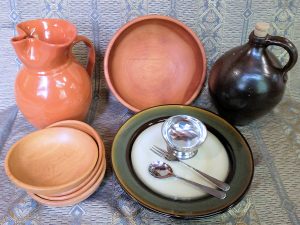 For a feast event like this, you should try to come in "garb" (an attempt at pre-1650 clothing) and also bring a "feast kit". You can borrow garb from the Gold Key deputy of the Chatelaine's office — click the link to email the Chatelaine, Halldora Bjorn
. A feast kit is simply a cup, a plate, a bowl, a napkin, and eating utensils. Feel free to bring more things if you want to dress up your place at the table, but those are the essentials!
Dinner is provided if you pre-registered for the feast, but lunch is on your own. Many people bring a picnic lunch. If you didn't pre-register for the feast, you can still come, just pack a dinner too. Table space will be available for you to set up your "off board" dinner.
Finally, this event has a fight practice — everybody can watch, and bring your fighting equipment if you want to participate — and Arts & Sciences and Bardic activities. Watch, or bring a craft and participate! Don't be afraid to introduce yourself, let people know you're new, and ask questions.
---
Arts & Sciences and Bardic Activities
Declare your intent to become our Champion!
Do a single entry without entering the Competition!
Or simply share what you are currently working on!

Baroness Kloe and Baron Arion
A&S and Bardic Championships
This year, our Arts & Sciences and Bardic championship competitions will be held during the Harvest Feast event. The Scholar's Assembly will be held at Candlemas, February 2023.
Would you like to compete for a championship?
Click here for all the details!
Letters of intent to compete are due by September 8, 2022.
A&S Displays (not for Championship)
We encourage our Populace members to bring one or more items that demonstrate your A&S interests and set up a display without entering the Competition. You may request scoring for your entry — only if you wish. If you wish to do this, please contact the A&S Minister, THL Altaliana de Segna
, so she can plan space for you.
Informal Show & Share
Bring what you are currently working on, set up at a table in the downstairs Hall, and share your passion with others. This is an opportunity to teach others a skill that you are good at or get help from knowledgeable people! This is an informal activity, so you don't need to let us know in advance unless you will need a big space. Think of this as an A&S Playday, similar to our informal Day Camp events.
---
Feast Menu
Master Thangbrandr Sløngvandbaugi
has assembled a team to provide a sumptuous, seasonal, feast. Here is the preliminary menu:
*Menu items and ingredients are subject to change due to availability
First Course:
Assorted Cheeses
Crackers (oats, rye flour, barley, spelt, cultured buttermilk, sea salt, birch flour)
Assorted Dried Fruit
Pickled Herring (herring, salt, sugar, vinegar, wine)
Second Course:
Cold Smoked Salmon (wild caught salmon, salt, sugar, spices)
Flat Bread (wheat flour, water, olive oil, yeast, sea salt, cracked black pepper)
Hard Boiled eggs
Cucumber Salad (cucumbers, onions, vinegar, salt, sugar, pepper)
Split Pea soup (dried peas, onions, carrots, celery, herbs & spices)
Third Course:
Roast Beef (Top round, herbs & spices)
Sausages (pork, salt, sugar, onions, pearled barley, natural casings)
Roasted Root Vegetables (carrots, onions, parsnips, rutabagas, beets with balsamic vinegar)
Bread rolls (wheat flour, water, olive oil, yeast, salt) + a commercial gluten-free option
Herbed butter (butter, parsley, dill, garlic)
Mustard (brown mustard seed, yellow mustard, apple cider vinegar, water, honey, cinnamon, nutmeg, ginger, and black pepper)
Dessert:
Baked apples with raisins, sugar, and spices
---
Schedule of Events
8:00 AM – Masonic Hall opens for Decorations, Kitchen Crew, and Event Steward Staff
9:00 AM – A&S and Bardic Competitors can arrive and set up displays and presentations
10:00 AM – Event Entry (Gate) Opens for all Attendees
10:30 AM – Opening Court, Upstairs in the Court / Ceremonial Room
* REMINDER: NO FOOD OR DRINK IN THE UPSTAIRS CEREMONIAL SPACE!
11:00 AM – A&S Displays and Presentations Begin (downstairs)
11:00 AM – A&S Entry – HE Conchobar MacEoin (Gaius Veturius Scaevola)
11:30AM – 1st Bardic Presentation – Lady Haldora Bjorn
11:30AM to 1:30PM – Fight Practice (Park Field Behind Givens Community Center)
12:00 NOON – A&S Entry – M'Lady Thea of Midvale
12:30PM – 2nd Bardic Presentation – Archos Erikk MacLost and M'Lord Badger the Humble
1:00 PM – A&S Entry – HL Owain ap Gwyllim Pengryth
1:30 PM – 3rd Bardic Presentation – Lady Maedbh and Lord Alan Tynneker
2:00 PM – Bardic Performance from Current Bardic Champion HL Máire nic Shiobhán
2:00 PM – A&S Entry – Domina Alys Graye
3:00 PM – All Judging Ends for both A&S and Bardic
3:30 PM – A&S and Bardic Panel Q&A Session
3:30 PM – Event Entry (Gate) Closes
4:00 PM – Feast 1st Course, Appetizer
* REMINDER: NO FOOD OR DRINK IN THE UPSTAIRS CEREMONIAL SPACE
5:00 PM – Evening Court in Upstairs Court Room space
* Arts & Sciences and Bardic Champions to be announced
* REMINDER: NO FOOD OR DRINK IN THE UPSTAIRS CEREMONIAL SPACE
6:15 PM (After Court) – Remainder of Feast
8:00 PM – Clean-Up of Site
10:00 PM – Site Closes
Contact Us
Event Steward: THL Sigridr Vilhjalmsdottir
at jmdekoster90@gmail.com
Arts and Sciences Minister: THL Altaliana de Segna
at sharon.f.greany@gmail.com
Baroness Kloe of Thira
and Arion the Wanderer
at coronets@dragonslaire.org
---
COVID-19 Precautions
Updated COVID-19 rules can be found under the COVIDSafe Policy page — but, in short, at present, there are no particular requirements in Kitsap county.
"No matter what safety precautions we put in place, there is no substitute for each individual being educated about the risk to themselves and their loved ones and making responsible choices to protect themselves and others from this virus."

From the Society