Activities and events will be held in-person to the greatest extent possible, following the current Washington state, Kitsap County, and SCA guidelines for COVID-19. If we cannot meet in person, Tuesday night social and other events may be held online. Please check News or the official Dragon's Laire Facebook group for the most up-to-date information about any specific event.
You can read more about the official SCA COVIDSafe Policy on the SCA web site.
Masks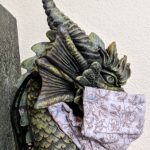 All attendees are required to wear a mask indoors, unless under 3 years of age, per the Society.
Masks are recommended but NOT required outdoors in Kitsap County. If you are travelling to another location, especially British Columbia, please review their local policies.
Proof of Vaccination or Negative COVID Test
Legal identification
All legal adults are REQUIRED to present a valid government issued form of photo identification: military, driver's license, state identification card, US passport, Sentri, Nexus, FAST, Global entry are all examples.
Proof of Vaccination Status or Negative COVID Test
All adults are required to present proof of Vaccination Status or Negative COVID Test.
Parents or guardians are required to present proof for all minor children ages 12 through 17.
Proof is NOT required for children aged 11 and younger.
What is considered fully vaccinated?
Fully vaccinated status is achieved two weeks after receiving the complete series of COVID19 vaccine or combination as approved by the World Health Organization.
A previous COVID19 infection does not count as fully vaccinated.
What counts as Proof of Vaccination Status?
A government issued card, original or photograph, or an electronic record.
One easy way to obtain electronic proof of vaccination is through MyIR. The Washington State Department of Health is working with MyIR to create official, digital, COVID19 vaccination cards. Visit https://waverify.doh.wa.gov/ on the electronic device of your preference. You will be asked your name, birthdate, and to select a mobile phone number or email to receive your SMART Health Card. The resulting QR code can be saved (downloaded) and then displayed anywhere proof of vaccination is required.
What counts as Proof of Negative COVID19 Test?
Acceptable tests MUST be PCR or antigen
They must be the original paper result OR an email OR a digital result page OR a record of COVID19 testing from a healthcare provider including original digital email notification or personal health record.
Results must include the following
Issued from a licensed medical provider.
Letterhead from the medical provider or an email address clearly identifying the provider.
Where the test was administered including name and contact information for the laboratory or healthcare personnel who performed the test.
Must use any of the following terms: Negative, Undetectable, SARS-CoV-2 RNA not detected, SARS-CoV-2 antigen not detected, COVID19 not detected, Not reactive.
Tests marked 'invalid' are NOT accepted.
Do you record my status in any way?
No. No record of your vaccination or test status is made.
Contact Tracing sign-in sheet
The contact tracing sign-in sheet is still required at this time. If you are uncomfortable putting your details on a sheet that others can read, a separate pieces of paper with the information can be given to Seneschal or Officer responsible for sign-ins at the activity of event.
Contract tracing information is currently kept for 60 days and then shred per the Kingdom Seneschal.
I disagree with these policies, can I still attend?
If you decline to show proof of status or to sign-in on the contract tracing sheet, you are NOT permitted to attend any official SCA activities or events in An Tir.
If you have questions or comments about these policies, they should be addressed to Prima Attia, Kingdom Seneschal, at seneschal@antir.org OR the Board President at president@sca.org OR Society Seneschal at seneschal@sca.org
Required language for any SCA-sponsored event in North America:
Although the SCA complies with all applicable laws to ensure the health and safety of our event participants, we cannot eliminate the risk of exposure to infectious diseases during in-person events. By participating in the in-person events of the SCA, you acknowledge and accept the potential risks. You agree to take any additional steps to protect your own health and safety and those under your control as you believe to be necessary.
Applicable mandates and resolutions
Washington State and Kitsap County Mandates
Face masks must be worn while indoors in public locations, regardless of vaccination status.
Face masks must be worn at outdoor events with attendance greater than 500 people, regardless of vaccination status.

NOTE: Face masks do NOT have to be worn while on the 'field of play' unless you are a spectator.
Face masks should be removed while eating or drinking BUT you should do your best to distance and stay in one spot while your mask is off.
The current mandates can be read at kitsappublichealth.org and the specific text here
Update – An Tir's Reopening Plan Regarding Food
The Kingdom Seneschal has updated the rules regarding food at activities and events. The update can be found here: https://antir.org/announcements/update-reopening-plan-regarding-food-served-at-events-effective-november-1-2021/
Clarification during Seneschal Meeting held October 21, 2021: Water or other drinks may be poured from a shared vessel, such as a 5 gallon cooler, but great efforts should be made to avoid touching the pour spout with an individual's container.
COVIDSafe BOD Resolution
November 1, 2021 the Kingdom of An Tir will implement the COVIDSafe Proof of Fully Vaccinated Status or Negative COVID Test Policy as created by the Board of Directors
This policy applies to all OFFICIAL activities and events within the Kingdom of An Tir, including Social gatherings and fight practices, regardless of how many people are participating. This policy does NOT apply to spectators and demos or if your practice is held in a public park.
The full policy from the Society Seneschal can be found here:
https://www.sca.org/news/covidsafe-proof-of-fully-vaccinated-status-or-negative-covid-test-policy-resolution/

The Frequently Asked Questions reference sheet can be found here:
https://www.sca.org/wp-content/uploads/2021/09/COVIDSafe-Proof-of-Vaccination-or-Negative-COVID-Test-Policy-FAQs.pdf

The words of our Kingdom Seneschal can be found here:
https://antir.org/announcements/regarding-the-new-policy-from-society-re-vaccines-or-testing-requirement/
Resolution to Further Lift Suspension of In-person Activity in the SCA as of August 1, 2021
Further resolutions, still in effect, can be found here:
https://www.sca.org/news/resolution-to-further-lift-suspension-of-in-person-activity-in-the-sca-as-of-august-1-2021/