Come join your fellow artisans for an informal day of classes and camaraderie at the Dragon's Laire Arts & Sciences Day Camp. Bring your projects and have some fun. No SCA garb required. Just wear street clothes.
The Arts & Sciences Day Camp is held twice a year, once in the spring and once in the fall.
---
April 1, 2023
This will be a day to gather and share our love of all things that practice and showcase the skills, and reproduce the beauty of, the Middle Ages!
If you are curious about some form of art or science, there will most likely be an artisan with experience present who would love to share their knowledge with you. If you want to find like-minded artisans and craftspeople to share tips and tricks of your various art-forms, this is the place to be!
We generally draw people from all over the Puget Sound region to 'geek out' on their favorite activities. Dragon's Laire is extremely privileged to have some amazingly talented artists and craftspeople within its borders!
If you wish to teach an additional class, or have a class request, please let us know. The schedule for the day is still being built, so actual timing is still adjustable. But we will update this page as everything finalizes. You will not want to miss the Spring Day Camp. It promises to be a lot of fun!
Let us know if you would like to schedule something, or have any questions.
Contact Altaliana de Segna
or Arontius of Bygelswade
.
Location and Time
Where: VFW Post #4992, 9981 Central Valley Rd NE, Bremerton, WA 98311 — Google map link. (the same location as our Tuesday socials)
When: We will open the doors at 9AM, with the day ending at 5PM.
Cost: The fee will be by donation.
You do NOT have to dress in garb for this occasion.
Food and Drink
Box lunches for pre-purchase (late 1300s/early 1400s cold luncheon menu)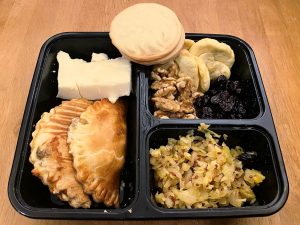 For the first time, the Dragon's Laire Culinary Guild will offer a box lunch option. This delightful late 1300s/early 1400s lunch will be provided in a reusable, microwave- and dishwasher-safe "bento" box and will include 2 hand pies, a vegetable & fruit quick pickle, wedge of cheese, dried apples and cherries, walnuts, and 2 cookies. A pamphlet with the recipes will be provided with the box!
We have a pre-order cap of 30 boxes and each box will be $8. Reservations and cash will be handled by HL Ciar ingen Fiachnae
. If you need an alternate payment method, please talk to Ciar.
Menu and Ingredient List
If you select Gluten Free, you will receive both Gluten Free Pie Crust and Gluten Free Cookies. While we will do our best, we do not have a Gluten-Free certified kitchen. Gluten-Free products are made with vegetable shortening.
Items are complete as is and are not able to have individual ingredients removed.
Cumin Chicken Pie: Bacon, chicken, cumin, ground black pepper, salt*, eggs, saffron, pie crust
Mushrooms in Pastry: mushrooms, olive oil, Parmesan cheese, salt*, black pepper, pie crust
Mixed Fruit & Vegetable Pickle: parsnip, turnip, cabbage, 2 pears, 2 apples, apple cider vinegar, cloves, saffron, white wine, honey, ground mustard, raisins, aniseed, fennel seed, ground ginger, ground cinnamon
Cheese: cow's milk, rennet, salt*, calcium chloride
Shrewsbury Biscuit: butter, orange extract, flour, sugar, ginger powder, eggs
King Arthur Gluten-Free Cookies: Gluten Free whole grain oat flour, rice flour, cane sugar, brown sugar, molasses, salt, baking powder, natural vanilla flavor, xanthan gum.
WinCo Pie Crust: Enriched bleached flour, wheat starch, lard, BHT (preservative), water, sugar, salt, sodium propionate and citric acid and potassium sorbate, xanthan gum, colored with yellow 5, red 40
King Arthur Gluten-Free Pie Crust: Rice flour, potato starch, cane sugar, salt, xanthan gum, vitamin and mineral mix.
Crisco Vegetable Shortening: soybean oil, fully hydrogenated palm oil, palm oil, mono and diglycerides, TBHQ and citric acid.
*Kosher and iodine free
Click here to go to the Order Form
Coffee, Tea, Snacks, and Other Food Options
We will also have a small coffee and tea assortment, and we encourage everyone attending to add to the snack table in potluck fashion. There is also word that HL Kassandra of Dragon's Laire
of Dragon's Laire will be working in the kitchen to provide cheese sticks (her description of what this is sounds very good).
Some people will pack a picnic lunch for this all-day event. Also, Silverdale is only a ten-minute drive away, with plenty of restaurants for lunch.
---
Drop-In (Unscheduled) Activities
Bring your sewing projects! Bring your scribal work! Bring your heraldry questions!. There is also a kitchen for those who might like to try some culinary activities. If the weather is even half-decent, we would encourage martiallate activities.
Planned Activities (so far):
Activity
Presented by
Details
Scholar of Dragon's Laire Presentation
11AM-NOON
M'Lord Badger the Humble
M'Lord Badger will give a presentation on his research paper, Macrame': Functional Art, Woven Through All of History. M'Lord Badger could not give his presentation at Candlemas due to illness, but is eager to present the information he's gathered on this subject.
Class: Foil repoussé
1PM
HE Arion the Wanderer
Explanation of what repousse is (from Wikipedia): "Repoussé or repoussage is a metalworking technique in which a malleable metal is shaped by hammering from the reverse side to create a design in low relief. Chasing or embossing is a similar technique in which the piece is hammered on the front side, sinking the metal. The two techniques are often used in conjunction."
Class: Knife-making
10AM-until done
HE Gaius Veturius Scaevola
For this class on sheath-making, students will need to bring a small 4-6″ fixed blade knife. It would also be helpful if you brought a small metal stylus, (small knitting needles work) and an X-acto knife as well as a small crafting ball peen hammer. There will be a $15 fee to cover leather and brass for the project. You should be able to walk out with the finished product. (Not a guarantee though.) Please RSVP to Gaius personally or by commenting on the A&S Day Camp posts in the Baronial Facebook group.
Class: The Surprisingly SIMPLE Rectangle – Session 2
10AM-until done
Lady Caterina da Savona
For those new-to-the-SCA and new-to-sewing. This will be a guided session where each student sews the tunic/gown they patterned in Session 1 (in-person March 28 or on YouTube, link to details). These will be mostly machine sewn, in the interest of time, but structured to allow future hand-finishing. You are invited to bring your own machine, if possible, plus scissors, pins, a tape measure, and fabric with a spool of matching thread. Interested students should coordinate with Caterina via the Baronial Facebook group.
Class: The Turkish Coat In Italian Fashion
Time: TBA
Señora Altaliana de Segna
We are still gathering the details (costs, supplies needed, and timing) for this class
Archery Practice (weather permitting)
If the weather cooperates for the Spring Arts and Sciences Day Camp, the Chief Archer (or other qualified Marshal) will set up and hold a shoot during the day.
---
COVID-19 Precautions
At present, the SCA policy is to follow local and state regulations regarding COVID-19 restrictions, including masking.
Learn more about the COVID-Safe policy for in-person events.
Link to the Kitsap Public Health District
"No matter what safety precautions we put in place, there is no substitute for each individual being educated about the risk to themselves and their loved ones and making responsible choices to protect themselves and others from this virus."

From the Society