Come join your fellow artisans for an informal day of classes and camaraderie at the Dragon's Laire Arts & Sciences Day Camp. Bring your projects and have some fun. No SCA garb required. Just wear street clothes.
The Arts & Sciences Day Camp is held twice a year, once in the spring and once in the fall.
---
September 23, 2023
---
This will be a day to gather and share our love of all things that practice and showcase the skills, and reproduce the beauty of, the Middle Ages!
If you are curious about some form of art or science, you can most likely find an artisan with experience who would love to share their knowledge with you. Or if you want to find like-minded artisans / craftspeople, to share tips and tricks for your various art-forms, this is the place to be!
We generally draw people from all over the Puget Sound region to 'geek out' on their favorite activities. Dragon's Laire is extremely privileged to have some amazingly talented artists and craftspeople within its borders!
You will not want to miss the Fall Day Camp. It promises to be a lot of fun!
Let us know if you would like to schedule something, or if you have any questions.
Contact: Arontius of Bygelswade
at DragonsLaire.ArtNSci@AnTir.org
Location and Time
Where: Port Orchard Masonic Center at 1025 Sidney Ave, Port Orchard, WA 98366 (map below)
When: 9AM — 5PM
Cost: The fee will be by donation.
You do NOT have to dress in garb for this occasion.
Food and Drink
Box lunches for pre-purchase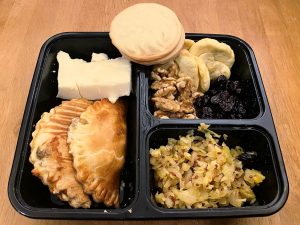 After the success of the box lunches at Spring Day Camp, the Dragon's Laire Culinary Guild will once again offer a box lunch option. (Learn more about the Guild.)
The Fall A&S Day Camp lunch recipes come from, or are inspired by, the Qimin Yaoshu (a 6th century Chinese agricultural text), with translation work by the amazing Þórfinnr Hróðgeirsson, OL, from the East Kingdom.
Dumplings: Chicken, ginger, black pepper, green cabbage, green onion, Tamari, salt, wrapper (wheat flour, water)
Roasted Pork: Pork shoulder, marinade (low sodium soy, shallots, black pepper, ginger)
Pickled Carrots & Daikon: carrots, daikon, rock candy, rice vinegar, white vinegar, salt
Pickled Ginger: Ginger, salt, rock candy, rice vinegar, white vinegar
Walnut Cookie Recipe: Flour, baking powder, salt (kosher), walnuts, butter (unsalted), sugar, egg
Sauce bar

Aloha Shoyu Low Sodium Soy: water, wheat gluten, salt, sugar, fermented soybeans, caramel coloring, sodium benzoate, potassium sorbate
Lee Kum Kee Black Bean Sauce: soy sauce, fermented black beans, sugar, soybean oil, salt, caramel color, cornstarch, xantham gum
Stu's Spicy Sauce: black vinegar, low sodium soy, Chongqing Chili Crisp (Non-GMO Rapeseed Oil, Shitake Mushrooms, Porcini Mushrooms, Chili, Garlic, Fermented Black Bean, Soybean, Sesame, Sugar, Sichuan Peppercorn, Salt, Spices)
Boxes are $8 each.
All boxes have been reserved, there is a possibility of a few boxes being available day of.
If you have questions about the Menu or would like to pre-pay electronically, please contact Lady Ciar ingen Fiachnae
Coffee, Tea, Snacks, and Other Food Options
We will have a coffee, tea, and hot chocolate assortment with some honey, sugar, sugar alternate, and creamer options. We do not have fresh cream or liquid creamer alternates.
We encourage anyone interested to add to the snack table in a potluck fashion. Please provide a list of ingredients or the original labeling.
The Port Orchard Masonic Center is close to numerous grocery stores, fast-food establishments, and fine dining restaurants. Ask our Arts and Sciences Minister, Arontius of Bygelswade
(click to email), for recommendations and directions.
Packing a picnic lunch for this all-day event is also a great option!
---
Drop-In (Unscheduled) Activities
Bring your sewing projects! Bring your scribal work! Bring your heraldry questions!
If the weather is even half-decent, we encourage martiallate activities.
Our Baronial Games Minister, Lucy of Leek

, will bring a number of board games. These will be available for anyone who wants to learn / play — chess, fox and geese, etc.
Planned Activities
This facility has a great kitchen set-up, as well as upstairs and downstairs rooms — for meetings, classes, and presentations. We have a lot of classes lined up already!
There will also be "HOW TO" sessions, for people who want help preparing for the Dragon's Laire Arts and Sciences / Bardic Championships at Harvest Feast (link to info) or the Scholars' Assembly at Candlemas (link to info). And don't forget, the Kingdom Arts and Sciences / Bardic Championships are in early spring!
Please let Master Arontius know if you have any questions — or want to get involved in any way. With the amount of space we have, we could easily fit more activities into the day.
Schedule
This should be the final schedule! (Barring any unforeseen complications that arise at the last minute.)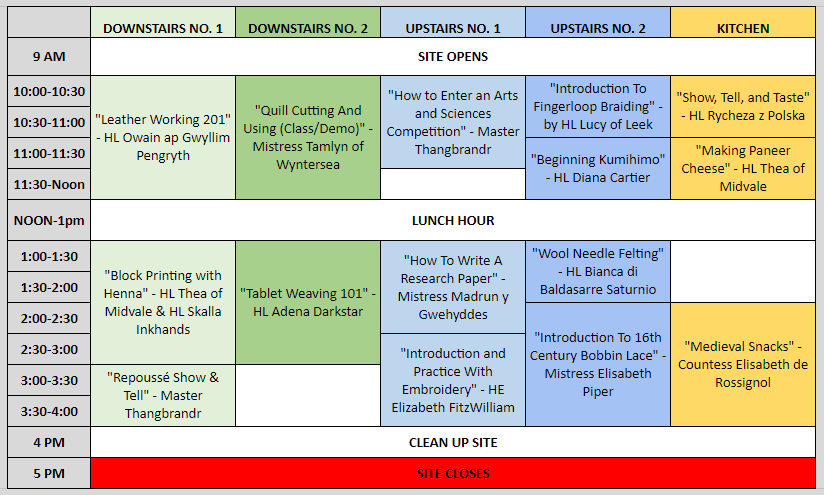 Description of Classes & Activities
Please note that some classes require pre-registration. Many of the make-and-take classes have a small fee for materials.
Beginning Kumihimo, by HL Diana Cartier. A starter kit will be available for the class at a cost of $5.00. This will provide the students the opportunity to make either a key chain or bookmark to take away with them. The starter kit is for the students to keep.

Pre-registration is required

with a class maximum of 10 students. Time: 11:00AM – Noon.
Block Printing With Henna, by HL Thea of Midvale and HL Skalla Inkhands. An introduction to the manufacture of printing blocks and how to work with henna dye. Time: 1:00PM – 3:00PM.
How To Enter An Arts And Sciences Competition, by Master Thangbrandr Sløngvandbaugi. This class talks about what preparation is required to enter an Arts and Sciences competition in An Tir, with an emphasis on entering Kingdom Arts and Sciences. Master Thangbrand brings his experience to bear in relating how best to organize your time and efforts. Time: 10:00AM – Noon.
How To Write A Research Paper, by Mistress Madrun y Gwehyddes. This class is intended to give the basics of research and writing a paper from the results of that research. A person with limited recent exposure with writing academic paper will leave with a direction to write a paper for the Scholars' Assembly if they were interested. Time: 1:00PM – 2:30PM.
Introduction And Practice With Embroidery, by HE Elizabeth FitzWilliam. Learn how to start working with embroidery projects and keep them improving. Time: 2:30PM – 4:00PM.
Introduction To Fingerloop Braiding by HL Lucy of Leek. Time: 10:00AM – 11:00AM.
Introduction To 16th Century Bobbin Lace, by Mistress Elisabeth Piper. This class will cost $15 for the tools and hand-out provided. This set includes a travel pillow. If you have your own basic tools, bring them. You will need (12) bobbins for the class. Time: 2:00PM – 4:00PM.
Leather Working 201, by HL Owain ap Gwyllim Pengryth. This class introduces how to plan leather projects and practice intermediate skills in leatherworking. Handouts will be available for $5.00 each. Leather for projects will be at cost (project complexity dependent). Time: 10:00AM – Noon.
Making Paneer Cheese, by HL Thea of Midvale. Paneer is a cheese made of whole milk and lemon juice (or vinegar and salt). A simple pressed cheese like a queso blanco. Included with the class will be a hand-out of Farmhouse Cheese, a more complex cheese to make that will be the next step in the learning process. If anyone has a propane burner or electric countertop burner, we might move this outside (weather dependent). Time: 11:00AM – Noon.
Medieval Snacks, by Countess Elisabeth de Rossignol. We will make snacks from medieval recipes and share them with those present at Day Camp. This is essentially an informal medieval recipe redaction class. Time: 2:00PM – 4:00PM.
Quill Cutting And Using (Class / Demo), by Mistress Tamlyn of Wyntersea. How to make quills from the raw product (feathers). Time: 10:00AM – Noon.
Repoussé Show & Tell, by Master Thangbrandr Sløngvandbaugi. An introduction to repoussé, the art of shaping metal by hammering from the reverse side. If you would like to be added to his roster, please send a Facebook PM to David Meyers.
Show, Tell, and Taste, by HL Rycheza z Polska. A Culinary Class showcasing some medieval spices and other cooking agents. Time: 10:00AM – 11:00AM.
Tablet Weaving 101, by Lady Adena Darkstar. A 'How To Do It' class on tablet weaving. Introductory kits will be available for $20.00 each. Kits contain a handout, twelve tablets (most will be pre-threaded), shuttle, needle, toothpicks, sticky notes, and DMC sized 5 thread. Pre-registration is required, with a class maximum of 4 students. To pre-register, PM Shandy Champlin in a Facebook Chat. Time: 1:00PM – 3:00PM.
Wool Needle Felting, by HL Bianca di Baldasarre Saturnio. Learn the basics of wool needle felting; making a base, creating shapes, and adding details. The class will focus on making 3-D wool pumpkins that you can customize to suit your own style. Supplies will cost $5 a person and include felting pad, wool, needles, needle holder, and leather finger protectors.

Pre-registration is required

(via Facebook PM to Tiffany Nardone), with a class maximum of 4 students. Time: 1:00PM – 2:00PM.
---
COVID-19 Policy
At present, the SCA policy is to follow local and state regulations regarding COVID-19 restrictions, including masking. There are no restrictions at this time.
Learn more about the COVID-Safe policy for in-person events.
Link to the Kitsap Public Health District
"No matter what safety precautions we put in place, there is no substitute for each individual being educated about the risk to themselves and their loved ones and making responsible choices to protect themselves and others from this virus."

From the Society