Award & Report Forms
The reward recommendation and monthly report forms are available here:
Forms for minors attending SCA events
Any minor attending an SCA event must bring a consent form to gate. This form must be signed by the minor's legal guardian, such as a parent. For only one minor, use the "Minor Consent" form. If the same guardian signs for multiple minors, it may be more convenient to use the "Multiple Minor Waiver" instead. These forms are available here:
Any minor attending an SCA event accompanied by an adult other than their legal guardian must also bring three signed copies of the appropriate medical authorization form. Each such minor must also bring one copy of a photo ID for the minor's legal guardian, and that ID must include the guardian's signature. Please read the form for details.
Roll of Arms
The Dragon's Laire section of the Roll of Arms on the AnTir College of Heralds Website.
Resources for Event Planners
June Faire Information
Ever wonder what the people on the June Faire Board do? This document will answer those questions:
This short document describes the duties of, and how to apply for, the position of June Faire Event Steward (board chairperson).
Running Events
The An Tir Event Stewards Website has a lot of good information for those running events in An Tir.
Resources for Baronial Officers
What follows are the various documents pertaining to the Barony, its officers and its management.
Office 365
All officers of the Barony have been allocated Office 365 accounts by the Kingdom. If you are an officer and have not yet set up your account, visit the Office 365 Instructions page for assistance.
Governing Policy
Dragon's Laire Customary
This document outlines the customary ways in which Dragon's Laire is run. Once approved, the most recent draft will supersede the previously approved customary, dated May 2011.
Dragon's Laire Financial Policy
This document explains how the Exchequerate should operate.
Social Media Policy
Dragon's Laire follows the Social Media Policy for An Tir and the SCA, available here, on the sca website.
Forms for Printing and Submitting
Event Proposal Form – use this form to submit your proposal for an event in Dragon's Laire. (added April 2011)
Reimbursement or Advance Form (pdf). Submit this form to the Exchequer to obtain a reimbursement or advance. You will find other useful Exchequer forms at the An Tir Chancellor of the Exchequer website.
Change of Office Form (pdf). Fill out this form (the Seneschal can help you) if you are taking over as an officer of the Barony. The link takes you to the An Tir Kingdom website.
Acknowledgement of Donation & Receipt (pdf). Fill out this form to officially acknowledge and record a donation to the Barony, such as if a vendor, merchant, or individual member of the populace makes a donation.
Information for Current and Potential Officers
Basic Duties of Baronial Officers. This write-up will help current and future officers understand their positions and how they interface with the other officers of the Barony.
The Baronial Library
The Barony has a nice library, faithfully kept by the wonderful Baronial Librarian, LIBRARIAN, of many, many books. Contact the Librarian to see some of the books we have!
The Baronial Herald
The Herald
The herald is the officer responsible for everything from simple field heraldry such as announcing the next bout in the tourney, to designing unique arms for a new branch, and heralding Baronial courts. Their duties include; assisting members of the populace research, design and register names and devices, keeping records of awards, training new heralds, and supervising voice heraldry for events.
Heraldry serves many purposes in the SCA. The visual display of heraldry, on banners, clothing and other objects creates pageantry. Maintaining the order of precedence reinforces the Medieval social structure, and heraldic research aids in persona development by providing appropriate names and personal devices.
Golden Dragon Pursuivant
The principal Herald in Dragons Laire is the Golden Dragon Pursuivant. Currently in Dragon's Laire, heraldic duties are divided between the Golden Dragon Pursuivant and our "Book" Herald. The Golden Dragon acts as the primary herald, visible at court functions, organizing voice heralds and handing official office records. Our "book" herald, focuses on the documentation and registration of names and devices.
Resources for Heraldry
Name Resources
Countess Elisabeth de Rossignol, a very important mucky-mucky, shall we say, a LION, of the herald community, has offered the following list of her favorite name resources.
To Submit Your Arms for Registration
First: Design your arms. Check here for some help: http://www.antirheralds.org/other/other.html. Then Fill out the form, yes, there is a form: http://www.antirheralds.org/submissions/forms/forms.html. Help for filling it out can be found here: http://www.antirheralds.org/submissions/submissions.html. Note that devices require ONE black and white line drawing and ONE colored copy. Names require ONE submission form and only ONE set of whatever additional documentation you send.
To submit your forms please go to theAn Tir Heralds webpage and find the mailing address there. This address changes every few years. Check the Heralds webpage for the most up to date address!
Submission form for Badges
Here's a link to the submission form for Badges. If you want to register a badge, you'll need to submit this form.
The Armigers of Dragon's Laire
We used to have a listing of all the registered devices of the Members of Dragon's Laire. However, the Antir College of Heralds has taken over this monumental task (of upkeep and design) and has a brilliant website featuring the devices, not only of the armigers of Dragon's Laire, but of those of the whole kingdom.
Here's a direct link to the Dragon's Laire section of theRoll of Arms..
Devices and Badges
The following designs can be used to create items for personal (in the case of the populace badges) or official Baronial (in the case of the Baronial device) use. Note that if you right click on the image and 'view image' you will see generally see a bigger version of the image.
Populace Badges for An Tir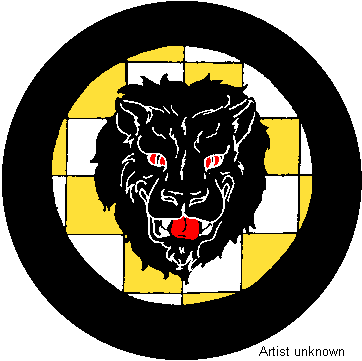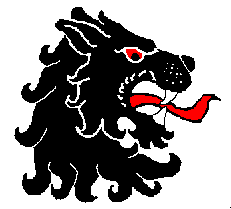 The Dragon's Laire Populace Badge
The following were designed by Murakami Tsuruko Sensei (Deb Strub) Copyright © 1994
Colorized by Máenach na Cailled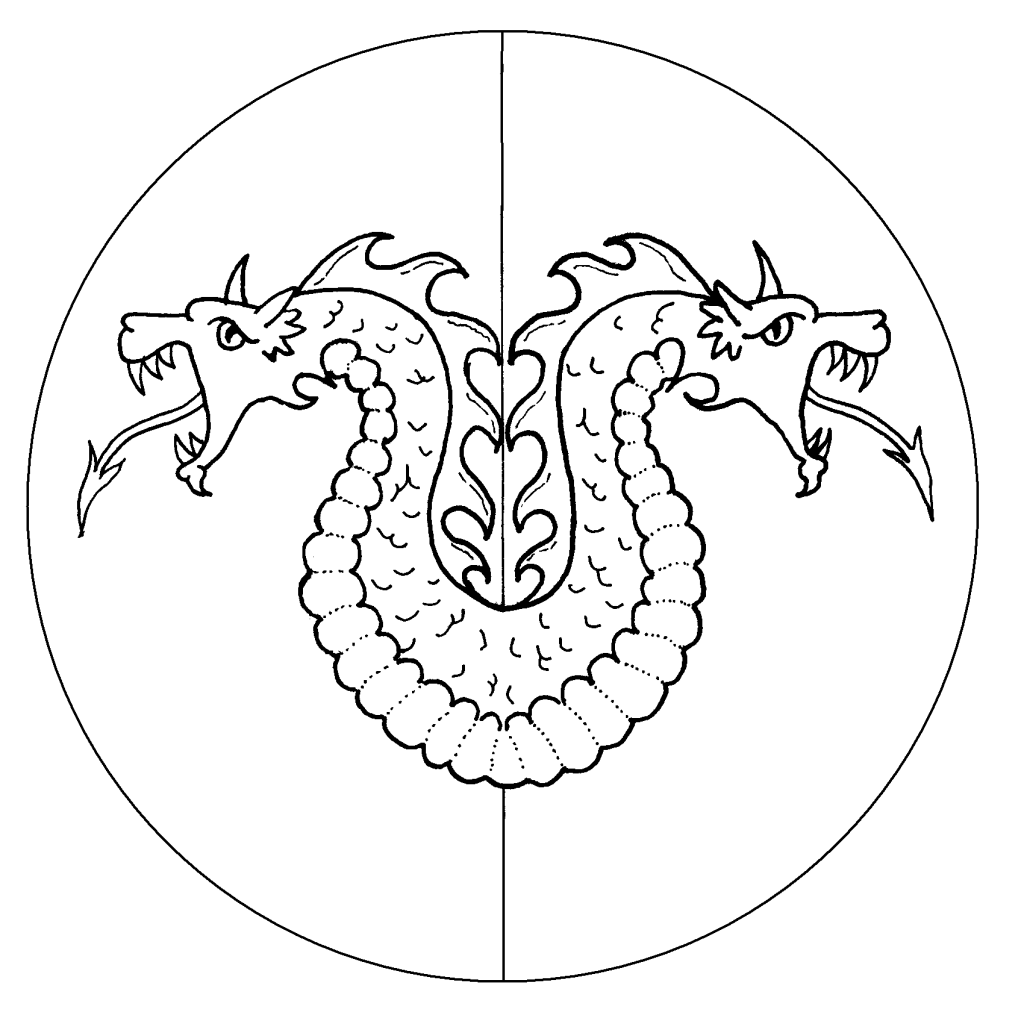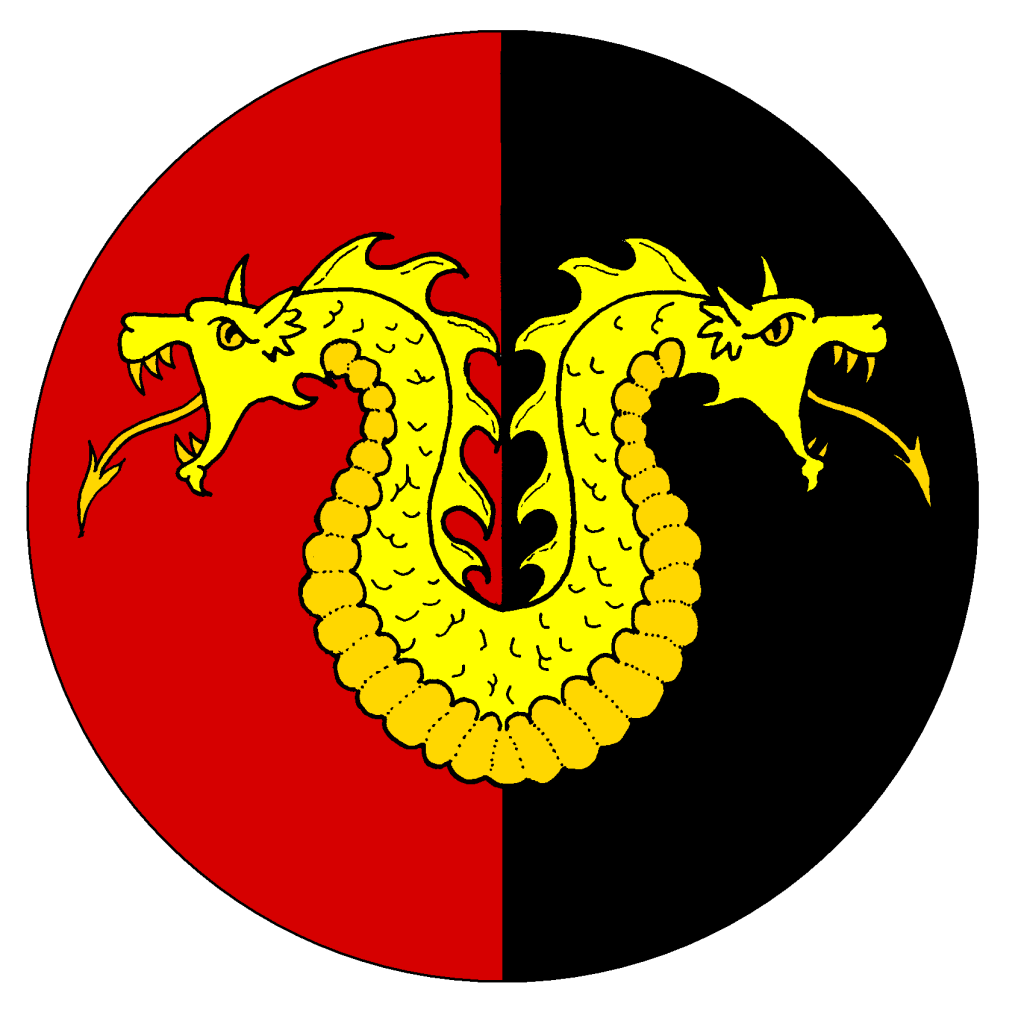 The Dragon's Laire Device
The following was designed by Murakami Tsuruko Sensei (Deb Strub) Copyright © 1994
Colorized by Máenach na Cailled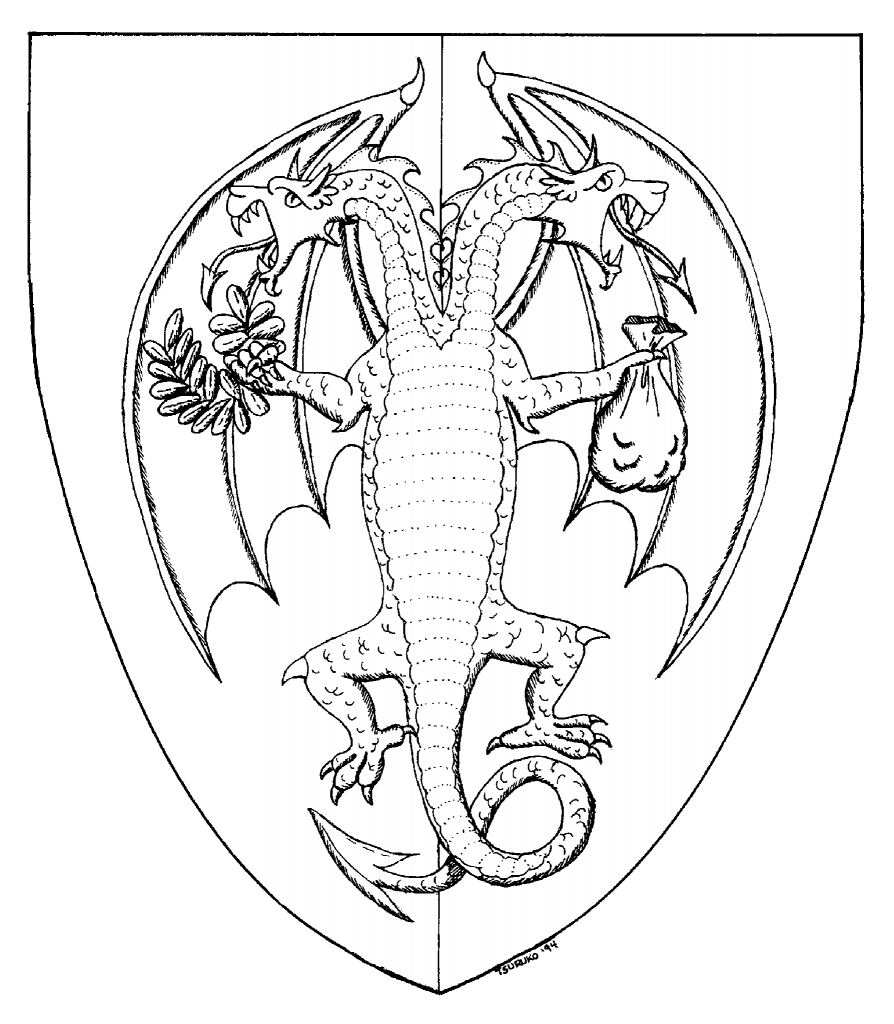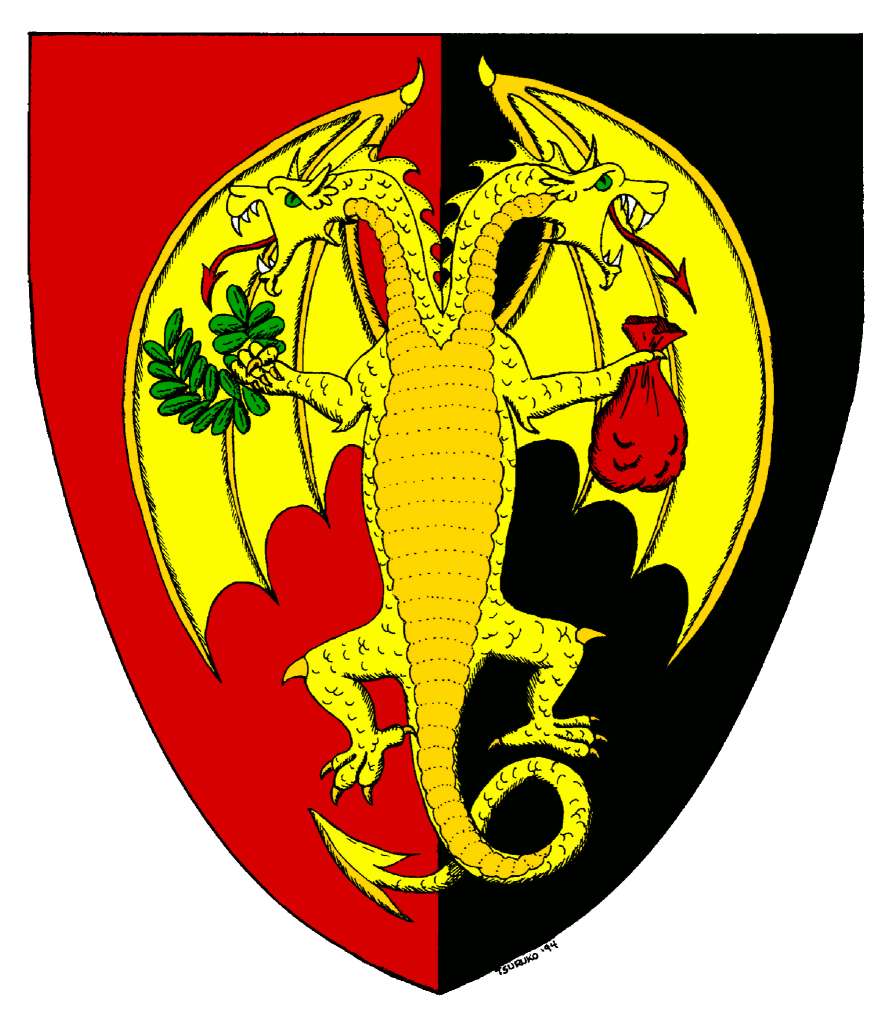 Baronial Email Lists
Newcomers to the Barony
There is a mailing list just for newcomers athttp://groups.yahoo.com/group/newdragons04. Please join if you are new and want to get into the swing of things!
Main Baronial List
The main Baronial email list is at dragonslaire@antir.sca.org. To subscribe, view the archives, or manage your subscription surf tohttp://antir.sca.org/mailman/listinfo/dragonslaire_antir.sca.org.
DL Warriors, for the fighters of the Barony
Subscribe: DL-Warriors-subscribe@yahoogroups.com
Archers List for Dragon's Laire
Subscribe: DL-Archers-subscribe@yahoogroups.com
DL Rapier Fighters List
dlrapierfighters@yahoogroups.com
And the DL Siege list, for throwing things far!
Surf to this website and sign up: http://groups.yahoo.com/group/dlsiege
Culinary/Spiritmakers Guild List
Visit http://groups.yahoo.com/group/DLCulinaryGuild/to learn more and subscribe.
Scribal Guild List
Visit http://groups.yahoo.com/group/DLScribalGuild/ to learn more and subscribe.
Facebook Resources
For those on Facebook, a new resource has been set up. These pages, called Ask a Laurel, Ask a Pelican and Ask a Knight, are great sources of information. They are open to everyone!
Laurels http://www.facebook.com/groups/621042547913077/
Pelicans http://www.facebook.com/groups/509523569083864/