Etiquette
To help everyone have a good experience in a virtual meeting, here are a few tips and points of etiquette to keep in mind:
Make sure anyone else in your area knows that you'll be joining a meeting – respect their privacy!

Not everyone wants to be heard or seen by strangers!
Not every stranger wants to accidentally see your scantily clad roommate / housemate!

If you have a microphone:

Please check your microphone in the preview window before joining your meeting.
Please keep your microphone muted unless you're actively using it to talk, share music, etc.

Microphones tend to amplify background noises so that they sound louder to everyone else than they do to you.
More open microphones increases the possibility of echo and feedback.

If the meeting facilitator notices that your microphone is open and you're not currently using it, they might mute you. Please don't take offense! They're just trying to help the meeting go smoothly!

If you have a camera:

Please check your camera view in the preview window before joining your meeting. Make sure you're happy with what others will see; maybe put away the evidence of any recent crimes!
If you're comfortable with it, please turn on your camera when you're talking. It's nice socially but it also helps people understand what you're saying and how you're saying it if they can see your face. This goes double for humor and sarcasm!

Please have patience! This is new for a lot of people, and technological gremlins can strike even the most confident techno-wizards.
Quick Start
Optionally, download and install "Zoom Client for Meetings" from this link: https://zoom.us/download
Click the link for your meeting. You should be taken to a page like the image below.

If you already have Zoom installed you might see an option to open it directly. Choosing that is the fastest way to get into the meeting.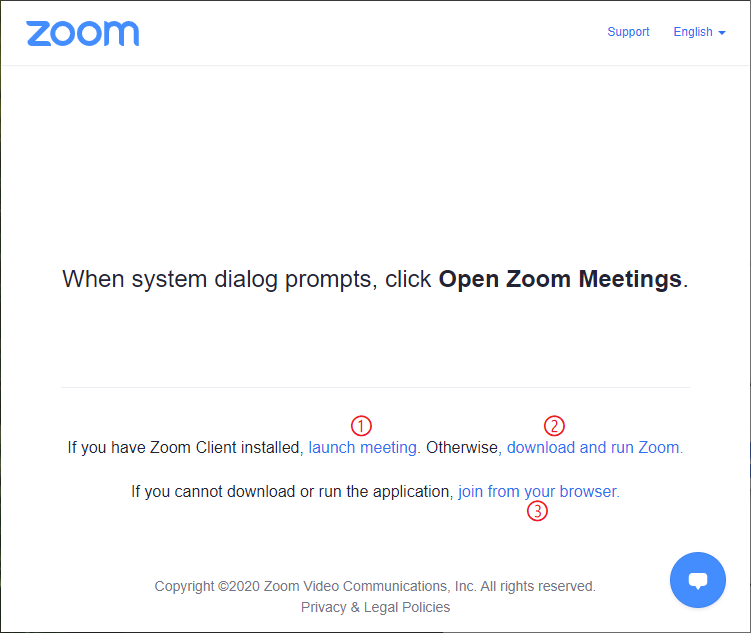 Choose how you'd like to join:

Using the Zoom Client application is most reliable and flexible, but it requires downloading and installing the Zoom Client.

If this is your first time joining a Zoom meeting, you may not have the Zoom Client installed. If that's the case, or if you're not sure, click the link to "download and run Zoom" (near ② in the screenshot above). Depending on your system, you may need to come back to this page after installing Zoom.
If you already have Zoom installed, pick "launch meeting" (near ① in the screenshot above). This should take you straight to the meeting.

The "join from your browser" option is quick and easy, but some people have trouble using their camera or microphone with this option, and some features of Zoom might not be available. If you want to go with this option, pick the "join from your browser" link (near ③ in the screenshot above).

If you are prompted for a name, enter a name that the members of the Barony will recognize. It doesn't have to be your full SCA or modern name.
You should then end up on a screen similar to these: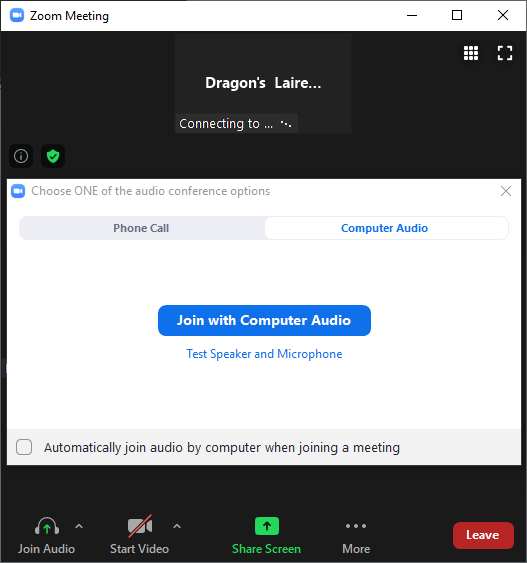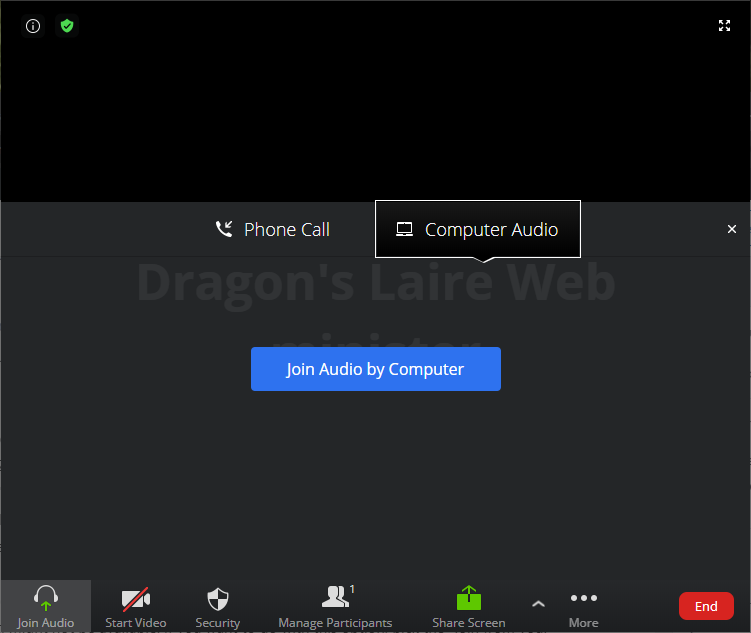 Pick "Join with Computer Audio" or "Join Audio by Computer" to use your computer's speakers and microphone.
Once you've joined, use the buttons described in the next section to control your experience.
Once you're done, pick "Leave" or "End" or close the program.
Controls During a Meeting
The buttons along the bottom of Zoom can be used to control your settings and interact with the meeting. The controls may vary depending on your version of Zoom, the meeting settings, and your role in the meeting, but they should look something like this:

From left to right:
Pick "Mute" or "Unmute" to turn your microphone on or off. Ideally, please stay on mute most of the time unless you're actively speaking or sharing, since these meeting programs are great at picking up and amplifying background noise.

Pick the small up-arrow near the Mute / Unmute button to control your audio settings. For example, if Zoom is using the wrong speakers or microphone, you can change that here.

Pick "Start Video" or "Stop Video" to turn your camera on or off.

Pick the small up-arrow near the Start / Stop Video button to control your camera settings, including choosing a virtual background.

Pick "Security" to change meeting settings which affect everyone.
Pick "Participants" to hide or show the list of people in the meeting.
Pick "Chat" to hide or show the text chat attached to the meeting. You can use this to share messages if you can't or don't want to use a microphone, or if you don't want to interrupt the main conversation.
Pick "Share Screen" to share an application on your computer, or your whole screen. You might use this if you want to give a presentation, for example.
Pick "Record" to start or stop recording the meeting.
Pick "Breakout Rooms" to interact with side-rooms in the meeting. Not all meetings have breakout rooms.
Pick "Reactions" if you want to react to something that someone said or did with applause or a thumbs-up.
Pick "End" to leave the meeting.